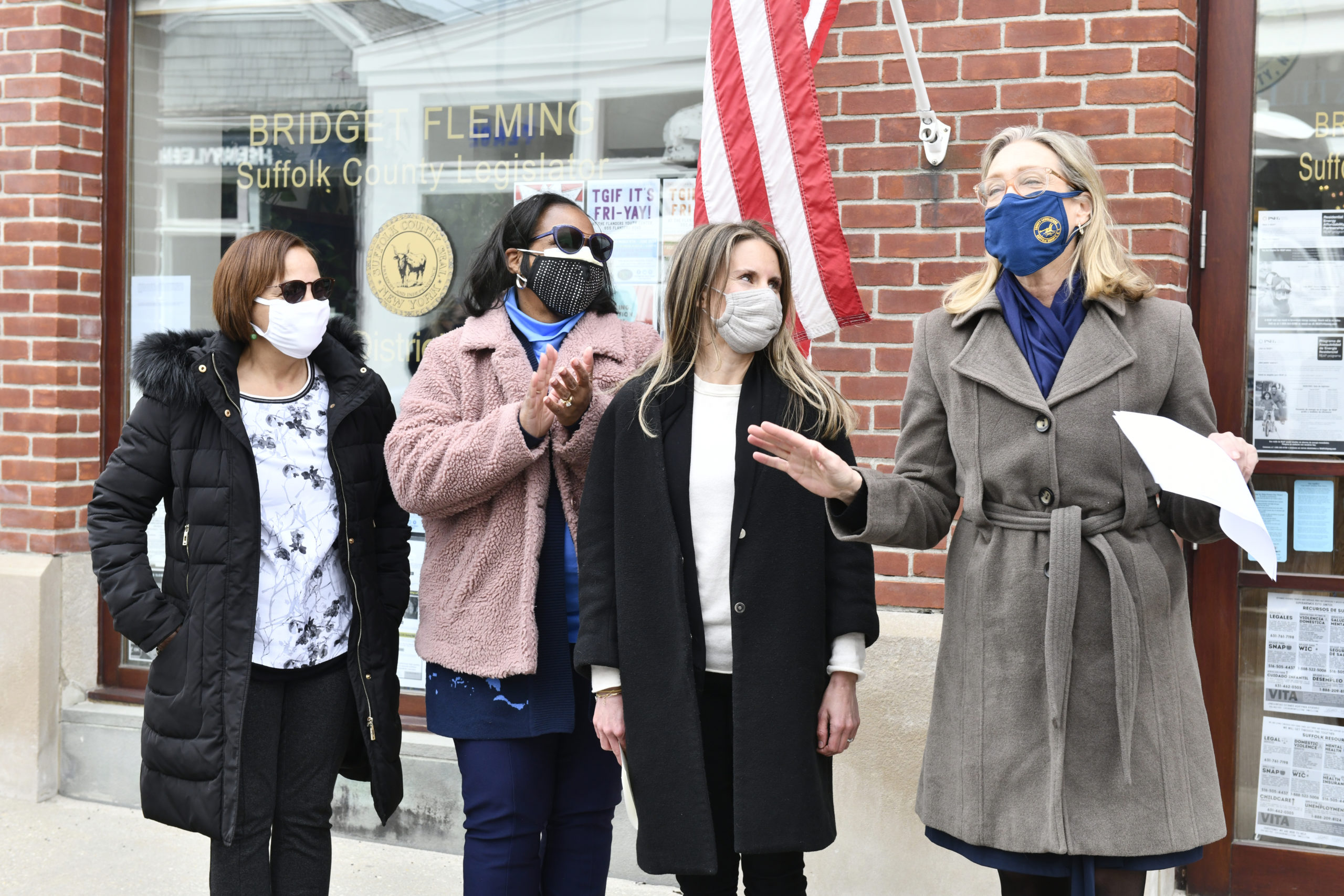 March 17, 2021 – by Michelle Trauring, www.27east.com
Marit Molin was just 17 years old when she found her calling.
Living abroad from her native Sweden in York, Pennsylvania, as part of a Rotary Youth Exchange program, she spent her free time volunteering with her host families, whether she was serving food to the homeless at a soup kitchen or assisting with coat drives.
"One morning, I just woke up and said, 'I have to do this on a professional level,'" Ms. Molin recalled. "'If I have a social work education, then I will be able to do so much more on a much deeper level.'"
Now a licensed social worker and practicing therapist, that is precisely what she has done.
On Tuesday afternoon, Suffolk County Legislator Bridget Fleming honored Ms. Molin, who lives in Water Mill, as this year's "Suffolk County Woman of Distinction," recognizing her leadership of Hamptons Community Outreach — which has raised $250,000 in donations since March, as well as $70,000 to feed people in need and help struggling restaurants stay afloat during the pandemic.
"As this COVID-19 pandemic has brought strains and challenges to every member of our community, Marit has provided opportunities for girls and others to give of themselves to truly help their neighbors and community," Ms. Fleming said. "Her initiative brilliantly served a double purpose. It has fed the hungry and offered a lifeline to local businesses in tough times. Every restaurant that participated is still in operation.
"Marit's efforts shine and offer as a model for how volunteer service in the community has far-reaching and far-lasting beneficial effects on our community," she continued. "She is well-deserving of the honor of Suffolk County's 'Woman of Distinction.'"
Over the past year, Ms. Molin said that the connections she has developed with communities in need have given her a sense of purpose more powerful than she has ever felt before — and she is even more determined and confident that Hamptons Community Outreach can bring about positive change.
"I'm humbled and I feel so honored," she said of the award. "It just feels so good to be rewarded for all of the hard work that we have done. The reward really belongs to all the generous donors and volunteers that have enabled it to happen. It's been a huge team effort."
Unbeknownst to her, this effort actually started three years ago, when she founded Hamptons Art Camp with one mission: bridging the local opportunity gap by offering free tuition to about 40 percent of the children in her program.
When COVID-19 hit the East End, she immediately shifted gears — right in the midst of her fundraising season.
"I couldn't ask for support for the camp because I didn't know, at that point, if camp was going to happen," she said. "I reached out to the different communities that I work with and I said, 'I can't fundraise for the camp right now, but what can I do for you and your people?' And all of them said, 'We need food.'"
In that moment, her mission became twofold: Feed the hungry, and support flailing restaurants in the process. She structured a food delivery system that, ultimately, transformed Hamptons Art Camp into the organization that it is today.
With the help of about 85 volunteers and the Jon Bon Jovi Soul Food Foundation — which partnered with Hamptons Community Outreach to distribute $16,000 worth of food — Ms. Molin delivered 14,000 pounds of fresh produce to local families, as well as 5,000 hot meals ordered from local restaurants, including La Parmigiana, The Village Gourmet Cheese Shoppe and La Hacienda Mexican Grill in Southampton, Calissa in Water Mill, Harbor Market & Kitchen and Cilantro's in Sag Harbor, and Pepperoni's in East Hampton.
Once many of the restaurants got back on their feet, Hamptons Community Outreach began delivering groceries and supplies to hundreds of families — a program that continues today, with 150 households receiving bi-weekly deliveries.
"Even though we've done so much and we've done the best that we could, the nature of the work is frustrating because there are so many people who need much more," Ms. Molin said. "It's not just food — it's clothing and it's mental health and it could be substance abuse counseling. The system isn't perfect and we're working really hard, but there's so much more work that needs to be done. As a society, we all really have to come together to help everyone out."
Along with food outreach, the organization has expanded to include free mental health and counseling services for underserved communities, addressing the loneliness associated with social distancing and self-quarantining head on.
"People were feeling disconnected before the pandemic, and now even more so, and even more isolated and alienated," Ms. Molin said. "All the mental health professionals, we see that there is even more substance abuse now, there's more alcoholism and domestic violence. The towns out here really have to brainstorm and think about, 'How do we offer more help to the people out here that fall through the cracks?'"
Hamptons Community Outreach has also started a diaper drive in partnership with local high schools, with the goal of turning it into the first diaper bank on the East End, and broadened its child-centered activities, which now offers tutoring, tennis lessons and even horseback riding through a partnership with Hamptons Pony.
"Riding is such an excellent sport and it's an opportunity to connect with an animal," Ms. Molin said. "There are studies that show how beneficial riding is not only for underserved children, but really all children."
Looking ahead at what's to come, Ms. Molin can't help but reflect back — to think of the seed that Rotary Club planted, and the generations of volunteers now coming up through her own organization, just as she did decades earlier.
"I always thought that I would move back to Sweden, but I feel like life often makes a plan on its own — and now I feel very rooted here," she said. "I have a husband and I have two children, and I feel so content with the difference that we're making in our community."