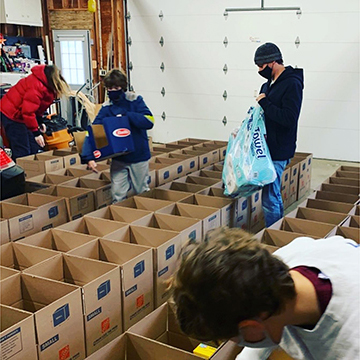 January 18, 2021, by T.J. Clemente, www.hamptons.com
Social worker Marit Molin founded Hamptons Art Camp to provide underserved youth living in the Hamptons with a summer camp experience. Hamptons Art Camp opened its doors in 2018 to an economically diverse group of children who spent the summer painting, sewing, building things, and engaging in community service projects.
With the onset of the COVID-19 crisis, Hamptons Art Camp started an aggressive outreach program that connected struggling restaurants with food insecure communities – delivering prepared meals weekly and 1,000 pounds of produce each week to the underserved. It also provided necessities to the elderly, groceries to childcare centers, and art kits and cookies to children of hospital workers, and more.
This fall, Hamptons Art Camp and Outreach became Hamptons Community Outreach. In addition to supporting underserved youth, Hamptons Community Outreach provides crisis intervention, enrichment services, mental health support, and increased involvement with underserved populations.
Molin shared her impressive story during an interview with Hamptons.com. "The whole thing started off as the Hamptons Art Camp because I realized some of my two children's friends spent their summers at home in front of the TV or on their electronics," she relayed. "There are many children like that throughout the Hamptons. So, I wanted to start a camp that would offer non-paying spots to underserved children. In 2018, we started the camp, we did well, we have now held the camp for three years in a row."
Then it became clear to Molin that the kids who came to the camp needed other things like backpacks, school supplies and perhaps even some new clothing for school. "Therefore, I added on a small outreach program, which was very child centered, creating the services these children needed," she said.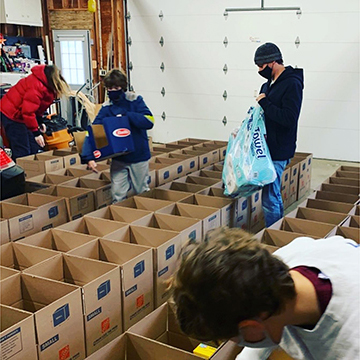 When COVID-19 hit, she expanded the program to provide food. She explained, "We couldn't fundraise for the camp in March 2020 – because we didn't know if there would be a camp, and at that time, people really started telling me we need food. All the people I reached out to said they really needed food. So, we developed a fairly large food outreach program that is still running. We delivered about 6,000 cooked meals, but we stopped the cooked meals in the summer because we thought people would be better served if they got groceries and supplies. We are still delivering thousands of pounds of fresh produce to make sure everyone can still eat healthy."
Hamptons Community Outreach is also focused on its mental health program. Molin, a gifted and concerned social worker, truly understands the mental health aspect of the devastating effects of COVID on the underserved. She said, "I have contracted other social workers to provide counseling for substance abuse, couples counseling, individual therapy, family therapy, because the uncertainty affects the children. So, not only the food program has grown, but also the mental health program. We are providing therapy to people who can't afford it."
There is more. Molin also created a Crisis Center. She explained, "We established the Crisis Center because during COVID there are a lot of people having trouble paying bills, or different things. We help the migrant community and we also established a Child Center Program and we provide tutoring for no charge for the underserved children struggling with their studies."
The more Molin spoke, the more it became clear of what a dynamic and determined person she is. She spoke about how when she moved out to the Water Mill area, she was pleased to see what a wonderful, caring community the Hamptons is. Obviously, she is a main cog in the machine that is providing the underserved – even before things became more difficult because of the effects of COVID.
In closing, Marit Molin expressed gratitude for those that help make Hamptons Community Outreach run so smoothly. "I couldn't do this without my volunteers and board members," she said. "There are many involved, but a few of them are: Amanda Race, Chuck McWhinnie, Renee Vara, Judi Caron, Nicholas Gazzolo, George Negroponte and Michelle Peterson."
There is no doubt that they all do amazing things. If you are interested in reading more and getting involved, or would just like to donate, visit www.hamptonscommunityoutreach.org.