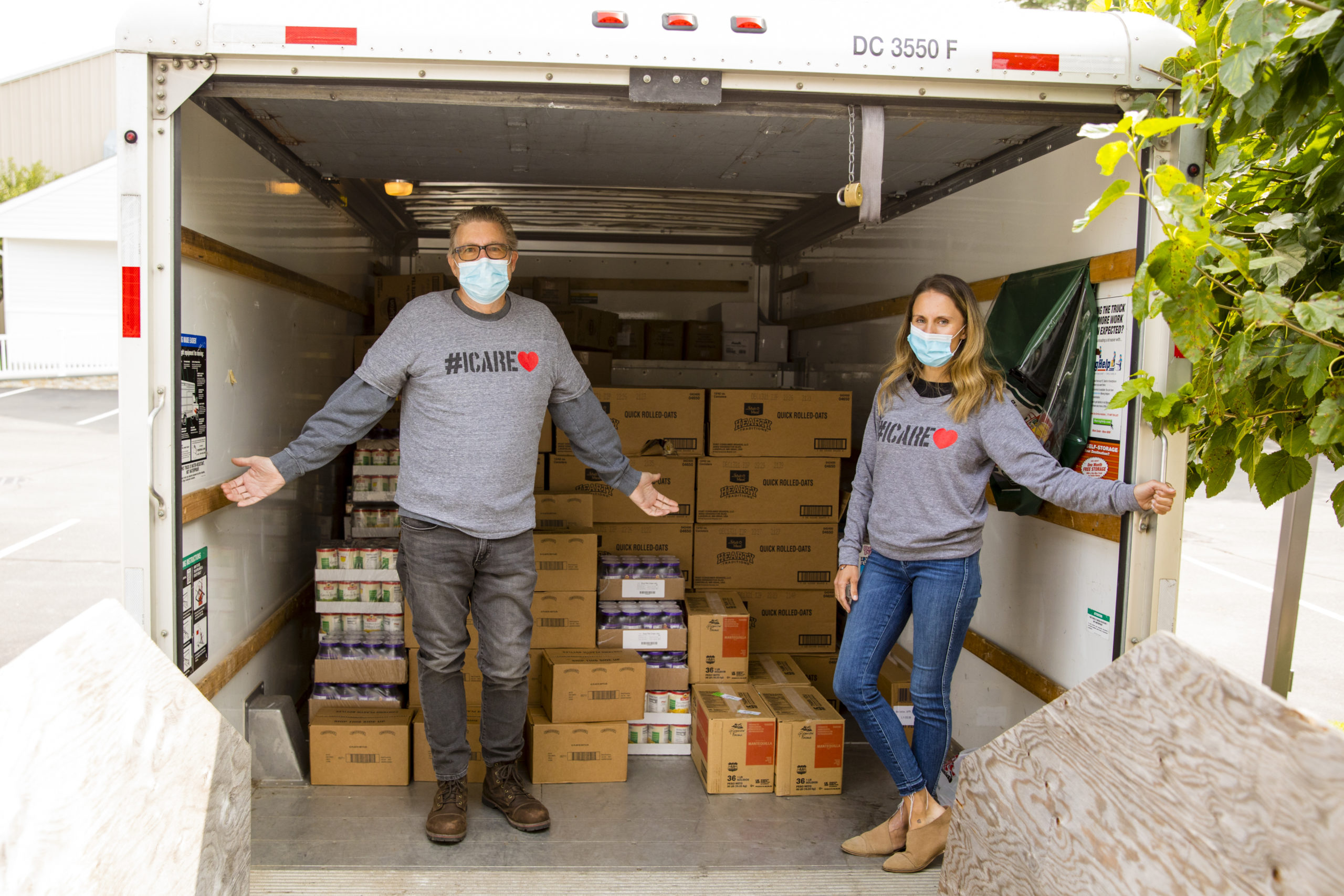 November 1, 2020 – by Michelle Trauring, www.27east.com
So often, it starts with a phone call. "I'm hungry," the voice says. "My family is hungry."
And Marit Molin immediately gets in gear.
The social worker reaches out to her network of donors, volunteers and personal connections, voraciously fundraising to provide the family with what they need, be it a grocery delivery, fresh produce, or a hot meal — an unexpected offshoot from what started as a Bridgehampton-based art camp for underserved children that has since transformed into a full-blown outreach organization across the East End following the coronavirus outbreak.
"In the Hamptons, there are just so many people that don't understand how big the needs are," Ms. Molin said. "With COVID, there are so many people that are unemployed, and with the winter creeping up, more and more people will get unemployed because, as you know, there's so much of the work out here that's seasonal."
Originally, Ms. Molin's own business venture was seasonal in nature, too. Three years ago, she founded Hamptons Art Camp with the mission of bridging the local opportunity gap by offering free tuition to about 40 percent of the children in her program.
"When I would chat with kids, and say, 'Are you excited about summer?' and they would say, 'No, summer is boring. I just sit around. I just watch TV.' So I started Hamptons Art Camp with underserved children in mind," she explained. "Then when COVID hit, which was March, I was in full fundraising mode for the summer, but it was hard to ask for people to sponsor kids for camp that we didn't know was actually gonna take place."
Instead, she called her contacts in different communities and populations, and asked them what they needed. Almost unanimously, they said, "We need food."
Through a letter-writing effort and GoFundMe campaign, Ms. Molin raised $200,000 — about $150,000 in financial donations and the remaining in food donations — and structured a food delivery system that, ultimately, transformed Hamptons Art Camp into the organization that it is today.
"We'd never done anything like this. We really outgrew our name," she said. "The camp still exists and will keep running, and we have workshops on the weekends, but the organizational name is Hamptons Community Outreach — because we're just so much more than an art camp."
With the help of 15 volunteers and the Jon Bon Jovi Soul Food Foundation — which partnered with Hamptons Community Outreach to distribute $16,000 worth of food — Ms. Molin has delivered 14,000 pounds of fresh produce to local families, as well as 5,000 hot meals ordered from local restaurants, including La Parmigiana, The Village Gourmet Cheese Shoppe and La Hacienda Mexican Grill in Southampton, Calissa in Water Mill, Harbor Market & Kitchen and Cilantro's in Sag Harbor, and Pepperoni's in East Hampton.
"My mission was twofold. I wanted to help prevent unemployment among restaurant workers — most of them are marginalized — so I would order cooked meals from local restaurants," Ms. Molin said. "We gauged that the restaurants seemed to be doing better, and we talked to a few people and they were doing better because they had a pretty sturdy takeout business at that point. So we shifted to groceries and supplies."
From March to May, the organization delivered groceries to 400 East End families in need. Since then, 244 households now receive supplies every month, largely provided for the elderly living on the Shinnecock Territory, a migrant camp in Water Mill, as well as to other communities.
"Some people tell me, 'Oh my God, you must be so exhausted,' or, 'This must be so overwhelming,' but it really hasn't felt so tiring or overwhelming because I felt so inspired and really excited to be able to help out," Ms. Molin said. "Seeing people's needs, and people calling me and telling me they're hungry, it sparked this energy — that this is a time to step up and help.
"I really didn't have time to sit around and think how tired I was," she continued. "I just kept it going because it really felt like an incredible opportunity."
Along with food outreach, the organization has expanded to include free mental health and counseling services for underserved communities, and has broadened its child-centered activities, which now offers arts and cultural programming, tutoring, tennis lessons and more.
"Seeing people step up to help others, that is such a beautiful thing at a difficult time like this," Ms. Molin said.
During a recent visit to the migrant camp in Water Mill, which seasonally employs workers from deeply impoverished areas in the South, a 48-year-old man approached Ms. Molin as she was in the middle of a food delivery.
"I've been praying for help because I'm in a lot of pain," she recalled him saying to her, opening his mouth to show her teeth that were in dire need of oral surgery — which he ultimately received with the discounted services of Southampton dentist Dr. Robert Iovino, as well as generous donors, inspiring Ms. Molin to add crisis outreach to her organization's mission.
"I think people have to realize that if you have means, understand how incredibly important it is for you to share those means, because as a community," she said, "if some people are not doing well, then as a community, we are going to suffer. If everyone's doing well, we all thrive."
For more information on Hamptons Community Outreach, or to give a donation, visit hamptonscommunityoutreach.org.